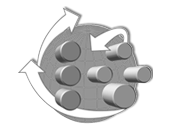 Our applications differ according to the sectors in which the customer operates and vary: from packing and packaging systems, to internal transport systems and handling systems, warehouse storage with different types of materials, palletization, assembly and handling lines.
Our technology and experience has specialized in storage systems with automatic or hybrid management that guarantee reliability and functionality.
Warehouse management, on which we have developed many applications, allows us to offer a wide range of services and products to make material handling easier and more functional. Barcode reading systems, terminals that interact with our management program. In more complex systems, we create customized computerized controls, which solve all the internal handling needs of the product and allow interfacing with existing EDP systems.