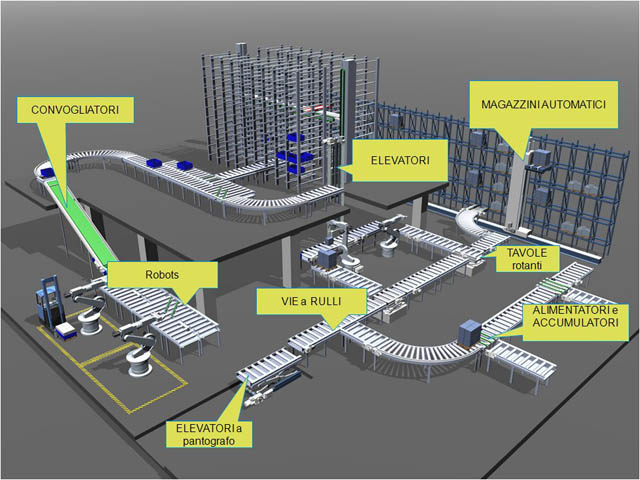 Our range of product sorting systems has been perfected, reaching quality standards that guarantee rapid commissioning and functionality.
Sorting Items:
Turntables
Elevators, Descenders
Stackers
Translators
Pushers
Roller conveyor systems, chains, belts, belts
Product internal transportation needs vary depending on unit type and usage. We are able to propose the most suitable solutions to optimize transport.
Transport elements:
Roller conveyors
Chain conveyors
Belt conveyors
Carpet conveyors
Automated rail transport shuttles
For transport needs of loads between fixed locations with low frequency of handling, we offer solutions with shuttles sliding on rails. They can be equipped with different types of transport on board, and also contain multiple cargo units.
Monorail Intelligent Transportation Systems
We are integrators of an innovative monorail transport system with workpiece pallets. This product which is made up of standardized elements is able to perform multiple functions with maximum flexibility.
System elements:
Straight or curved monorail structure
Switchover or crossroads deviations
Intelligent autonomous shuttles
Elevators/descenders
Product pick-up stations.
Application advantages:
Simple assembly and structure modification
Use of reusable standardized components
Reliability due to the only active elements consisting of the shuttles
Virtually zero downtime and maintenance downtime
Elimination of traditional pneumatic and electromechanical systems subject to wear
Energy saving due to low consumption
Possibility of carrying out operations on the product even during transport
Absence of control and command equipment on the ground
The shuttle contains all the necessary control inside it and is therefore autonomous.
LGV laser guided automatic transport trolleys
We are integrators of innovative transport systems on laser guided vehicles. They are indicated for handling loads whose flows are highly variable and complex, and also relieve operators of repetitive and uncomfortable tasks, especially in particular environmental conditions.
Application advantages
Movement configuration flexibility
Safe and repetitive handling
Orderly dislocation of the materials handled in the picking and unloading areas
Automatic integration with other production systems
Continuous productivity without operator supervision.
Semi-automatic forklift automation
In internal handling applications, where the logistic dislocation and low operating flows do not require fully automated processes, we have developed man-on-board semi-automatic forklift solutions. In practice, by automating some functions of a standard commercial forklift, we have provided the operator with a machine capable of performing bilateral loading/unloading operations at different levels of height with the simple push of a butto.
Application advantages:
Simple and safe operation.
Reduction of maneuver times.
Increased productivity.
Limited costs.
Management programs for automatic warehouses
We independently create the management programs for the handling of automatic warehouses. The software is developed according to the customer's needs, with whom we interact in defining the project, and is the result of our experience gained in the sector.
Main functions:
ìCustom multi-user access
Warehouse map view
Management of loading and unloading lists
Manual withdrawal management
Item master data
Input management, coding, identification
Management of withdrawal and deposit missions
Activity reports
Functionality monitoring and diagnostics.
WiFi portable terminals:
The program uses and manages the dialogue with handheld terminals connected to the network with wireless technology, which allow the operator to carry out all the operations in a simple and easy way.
Automatic vertical warehouses with stacker crane
We create complete "turnkey" warehouses with automatic stacker cranes. Single-column crane-elevator systems for pallets and boxes, with automatic positioning with high reliability and precision. Telescopic forks in simple or double depth. We develop automation and movement management programs up to interfacing with the customer's management system.
Application advantages:
The stacker crane system optimizes the available storage surface of the warehouse, moving a large amount of material in a short time. The simultaneous movement speed, horizontal and vertical, combined with the programming of the handling lists guarantee a handling capacity not achievable with traditional systems. The warehouse can be single or double deep, in this case two load units can be inserted in each location, optimizing storage. The automatic management also ensures: rapid procurement without errors, control and continuous updating of inventories, reduction of manpower, reduction of logistics costs.
Automatic warehouses with horizontal development
The logistical needs and the different conformations of the production spaces have led us to create product storage systems developed horizontally even on several production floors. In these cases, modular accumulation systems have been used, connected to each other with elevator and descender elements. Each zone is managed independently and fulfills the functions of identifying the product handled. The central control dialogues and coordinates all the zones and keeps the system updated.
Stacking, palletizing, accumulation systems
In end-of-line systems we offer different solutions based on the application requirements. From simple progressive accumulation systems, to stacking systems, or from palletisations in various formats made with portal handling or anthropomorphic robots.
Pallet transport and packaging line
We have created any type of product handling in the textile industry: pallet transport lines, crates, boxes. Packaging, picking of containers and single cones.